SYNOPSIS:
Bound as one, to love, honour, or burn. Book one of a stunning fantasy duology, this tale of witchcraft and forbidden love is perfect for fans of Kendare Blake and Sara Holland.
Two years ago, Louise le Blanc fled her coven and took shelter in the city of Cesarine, forsaking all magic and living off whatever she could steal. There, witches like Lou are hunted. They are feared. And they are burned.
As a huntsman of the Church, Reid Diggory has lived his life by one principle: Thou shalt not suffer a witch to live. But when Lou pulls a wicked stunt, the two are forced into an impossible situation—marriage.
Lou, unable to ignore her growing feelings, yet powerless to change what she is, must make a choice. And love makes fools of us all.
Set in a world of powerful women, dark magic, and off-the-charts romance, book one of this stunning fantasy duology will leave readers burning for more.
***
Genre: YA Fantasy; Romance; Paranormal – Witches
Page count: 418 (Kindle Edition); 519 (Paperback)
Year published: 2019
Rating: ⭐⭐⭐⭐⭐ (5/5)
This book's mood song match – Witching Hour by In This Moment
***
I've always believed in the power of witchcraft.
When other girls were playing with their dolls, pretending to be princesses like Rapunzel or Cinderella or whatever, I was hiding in my secret place aka a huge linden tree at the very back of my family's orchard and pretending that I had the ability to control the elements.
I was basically running around pretending I'm flying on a stick, bending the wind at my will and "magically" talking to my dog (she was basically playing witch with me every day and I swear sometimes I could hear her speaking because I was able to "cast a spell" on her).
Even though it is not exactly how people in general picture witches and magic and spells and stuff Serpent & Dove was the perfect book for the witchling me because magic comes in all forms, sizes and colours. And for the grown-ass witch I am today (because I still love to think I can do magic) it is still something that warms my heart.
For real, every time I read or see something regarding witches or magic my brain cells feel the need to go wild like: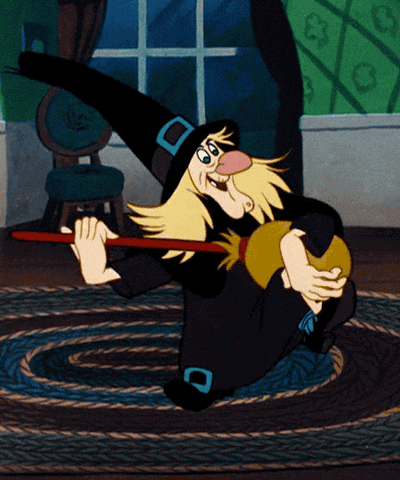 Important things I learned from this book:
Don't judge someone because you don't understand them – not all the good is always entirely good and not all the bad is entirely bad;
Boys are allowed to be shy and prude, girls are allowed to be daring and bold (and a bit nasty);
Love is a powerful kind of magic and it is not bound by blood or forged by papers – it's a wild being who gets to be tamed only when one believes it's true.
I truly loved this book, maybe until the verge of a tiny obsession. I mean, I was sure I was going to like it because I fell in love with that cover (and if you know me, then you know that covers play a big role in my choice of a book). I wasn't expecting to love this book that much.
The action was lively and very well structured, based on the gruesome history of the witch hunt in the Middle Age, when all women were prone to be witches and burned on a stick immediately. In the name of God, of course. Duh.
I will never ever in a million and two and a half years understand why do people oppress other people only because they are different. People are allowed to believe in anything they want to believe. We must be the masters of our own lives, we cannot let others tell us how to live and in what to believe.
Own it, people or someone else would own it for you.
Okay so, the witches are, in most of the cases, women.
In this book, there are two types of witches: Dames Blanche, whose magic demand balance of nature, and Dames Rouge, whose magic is in their blood (they perform blood magic that doesn't demand a sacrifice to keep the balance with nature).
Lou is a Dame Blanche. Coco is a Dame Rouge.
Although they were supposed to hate each other, they became friends sisters. And they would go to hell and back for each other, because this is a book about powerful women and about sisterhood and love.
"If she was destined to burn in Hell, I would burn with her."
Lou ran away from her coven because she was afraid to fulfil the one thing she was conceived for: to die. So she turns into a thief and a mischief.
Everything goes upside down when she meets Reid, the very boss of the anti-witch squad. He's truly annoying in his religious indoctrination. Truly annoying, almost blind at everything concerning that matter. But he's also very tall and handsome so I could totally see where this was going to go, honestly. And he's a good man, kind and caring. He's real. Like, damn, he's got them all, okay? He's basically like the sweetest raspberry jam in the pantry.
I just love Lou and Reid together. He's so serious and lives guided by his honour and she's so vulgar and daring and she drives him mad. But when they fall for each other, they see through each other's acts. And they fall deeper.
"And here I was – pouring my foolish heart out to you."
Also, speaking of which, let me tell you how much I loved the fact that Lou and Coco are so vulgar and so daring and foul-mouthed and so unafraid to actually be sexual beings.
It Is InNaPrOpIaTe FoR a WoMaN tO bE tHaT iMoRaL.
Well, shit. Says who?
Just take a look at those two she-devils singing pub drinking songs about big-chested women (Big Titty Liddy – a bop, I want it in Billboard 100 ASAP).
Look at them saying everything they want to say, without censoring themselves. Look at them going for it without a single shit given. Judge them if you dare, but you won't be able to stop them. Because they know how to carry themselves with pride. Because they know no shame. Fucking superb, don't you think?
"She revelled in their disapproval."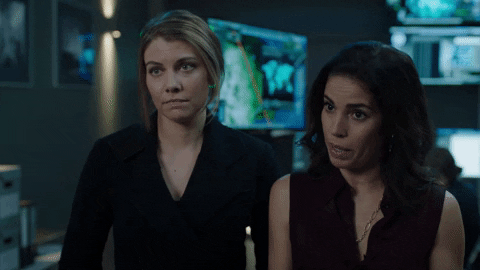 There is love and hate and betrayal and plot-twists and everything you need in life just between the pages of this book. I really, really loved it. The characters are amazing, all of them. I loved Lou with that foul-mouth of hers, I loved Coco with her wickedly brave heart, I loved Reid with his pure heart and that stick up his arse and I truly loved babyboy Ansel who was the sweetest sweetheart of them all.
Of course, there is a religious touch to the story and a pagan one, men being the embodiment of God's will and women being Satan or whatever. There is also an empowerment going on there, feminist shit and all. There's, actually, a lot going on there. And I loved it all.
Honestly, go and read this book. It's been so good I almost devoured it. Yeah, there might be a slight chance not to like it, but there is an even higher one you'll actually enjoy it very much. So go! Go for it and don't forget to tell me how you felt about it afterwards! There's love and hate waiting for you in there, so you'll experience an experience, so to say.
"Now, there was only a woman. And she was small. And she was frightened. And she was strong."