SYNOPSIS:
If someone were to ask Jasmine Santos to describe the last few years of her life with a single word, it would definitely be a four-letter one.
After seventeen years—and countless broken bones and broken promises—she knows her window to compete in figure skating is coming to a close.
But when the offer of a lifetime comes in from an arrogant idiot she's spent the last decade dreaming about pushing in the way of a moving bus, Jasmine might have to reconsider everything.
Including Ivan Lukov.
***
Genre: Contemporary Romance
Page count: 524 (Kindle Edition); 493 (Paperback)
Year of publication: 2018
Rating: ⭐⭐⭐⭐ (4.45/5)
I honestly was far from expecting this book to make me tear up a bit at the end. But it happened. And it was more like a tiny wet something in my eyes though…but hey, no one is crying here, okay? Mind your own business.
From Lukov with Love, huh?
I would definitely not lie if I told you that I have heard about this book multiple times a couple of years ago when everyone around me was reading it and I was just sitting there with my Crime and Punishment copy, rolling my eyes.
And now…here I am. Becoming all heart-eyed over it. *sigh*
Okay, it took me a while to appreciate it but hey, better later than never, right?
So far, I think this is my favourite slow-burn contemporary romance. I am not that well-acquainted with this genre so I don't want to speak from my side-of-the-road-puddle-deep experience with them, but for now, this is just up there on my list. It has been so very great and it made me so very warm inside. Which is dumb to admit because the whole thing happens on ice (which is kind of cold ahem). But anyway.
This is the story of Jasmine Santos and her determination to prove everyone – herself included – that she is one of the best figure skaters out there. Her time has not come yet and she would definitely smash the door in its nose if it were to come by any time soon.
I honestly loved Jasmine. She was this mean, hard-working bitch with a big, loud family that loved the shit out of her hard ass and she loved the shit out of each one of them too. She is definitely a tough cookie and a bit too intense for some people to put up with but damn, it's like she's me and I am her. Most of the time. And I honestly love her because I can relate to her.
A badass heroine like her is hard to put up with and some people don't care or don't want to try to know her. Expect for Ivan Lukov.
Normally, I don't fall for contemporary romance characters (I'm more of a sci-fi/fantasy whore anyway), but there was something about Vanya Lukov. I simply fell in love with him. Me and Jasmine, both of us.
I mean, for real, he's so sweet and considerate, full of interesting personality and he loves animals and has I-don't-know-how-many dogs, a pink piggy pig and a bunny? Yeah, uh-huh, marry me already, Lukov.
Ivan and Jasmine's relationship is full of snarky banter, the hate-to-love trope thriving. Both of them are so full of shit that they are kind of adorable, I mean, their relationship literally goes like this:
Jasmine and Ivan *always hugging like the world is ending*
*spending 90% of their time together*
*having dinner with each other's families*
*seeing each other naked*
Jasmine *hating on his face but constantly thinking about it*
*ogling his tight buns*
Ivan *supporting the hell out of Jas*
*calling her baby*
*cuddling*
*taking care of Jas every time she fucks sth up*
*basically telling Jas how much he loves her with every breath he takes*

WE ARE FRIENDS THAT'S WHAT FRIENDS DO
Honestly now, adorable.
I also loved the fact that in this book, the main issue discussed has been about bullying and harassment – the type that starts online and ends up going on in real-life too. I mean disgusting pervs and stalkers. And sadly, this happens a lot, especially when it comes to female athletes.
Jasmine has to deal with this kind of harassment and unwanted attention for years and years, and she decides not to tell anyone about this situation because she doesn't want to trouble them – because it's not big of a deal.
Uhm, no. It is a pretty fucking big deal. And choosing to try to ignore it or solve it all by yourself is not going to help your cause.
I really do believe that people – and I think mostly girls, but I don't want to generalise – put up with things like this and don't tell anyone because they are either afraid or ashamed. And that is why those people start to disintegrate mentally.
I am sure everyone has in their life someone like Ivan Lukov – someone who gets mad and disgusted by such morally-rotten creatures and feels the need to help their friend whatever it takes genuinely because they care deeply about them.
Cry for help if you need it and someone is going to answer, I can guarantee.
This is, yet again, another crusty-on-the-outside-soft-on-the-inside romance that Mariana Zapata serves us and – with the risk of repeating myself – I honestly believe that it's one of my favourite contemporary romances ever.
If you haven't read it yet, there is still plenty of time to do that. It's super easy to read, the story flows and the characters are to die for.
All you need to do is to give it a try!
Oh and, P.S.
The two are totally giving me the perfect mix between Aljona Savchenko and Bruno Masot's incredibly well-timed routines packed with great difficulty and Tessa Virtue and Scott Moir's fabulous chemistry on ice vibe.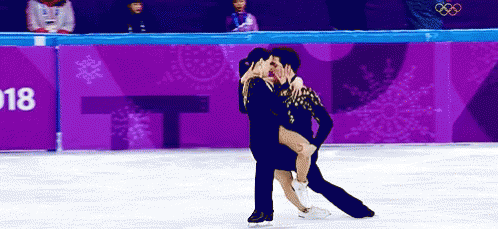 *SWOONS INTERNATLLY*