SYNOPSIS:
The mesmerising adult debut from #1 New York Times bestselling author Leigh Bardugo.
Galaxy "Alex" Stern is the most unlikely member of Yale's freshman class. Raised in the Los Angeles hinterlands by a hippie mum, Alex dropped out of school early and into a world of shady drug dealer boyfriends, dead-end jobs, and much, much worse. By age twenty, in fact, she is the sole survivor of horrific, unsolved multiple homicides. Some might say she's thrown her life away. But at her hospital bed, Alex is offered a second chance: to attend one of the world's most elite universities on a full ride. What's the catch, and why her?
Still searching for answers to this herself, Alex arrives in New Haven tasked by her mysterious benefactors with monitoring the activities of Yale's secret societies. These eight windowless "tombs" are well-known to be haunts of the future rich and powerful, from high-ranking politicos to Wall Street and Hollywood's biggest players. But their occult activities are revealed to be more sinister and more extraordinary than any paranoid imagination might conceive.
***
Genre: Adult Fantasy Fiction; Mystery
Page count: 458 (Paperback); 476 (Kindle version)
Rating: ⭐⭐⭐⭐
Oh behold the majestic weird shit that I am, reading my first Leigh Bardugo book ever!
YES. You may laugh at me and judge me and all that, but honestly, this book has created some serious anarchy after publication, a type of anarchy that made me stop and think: "If this book makes people feel so intense, then it is a make it or break it for me for sure". This book was about to be the ultimate answer to my eternal question – "Will I ever even like Leigh Bardugo?"
The answer to that lame question – Yes. And I know that's not even one of her greatest works.
Ninth House was and is (at least for me) a weird combination of delightful and crafty action, disgusting and unnecessary details and a perpetual feeling of cringe. But I bloody loved it and that shows how much of next level trash I can be.
IT IS NOT YOUNG ADULT CONTENT HERE. And I mean it. For those who don't really get along with new adult content, please put the book away or suck it up and read it on your own expense.
Disclaimer: it contains emotional triggers such as child molesting, alcohol and drug abuse, physical and psychical abuse, curse words, violence and other things in that particular area.
Now, to the actual review, if you get over those previously mentioned trigger factors, the rest of the action is quite okay.
"Mors vincit irrumat omnia."

The truest shit I've heard in a while
To be completely honest, I don't know much about Yale and its organisational system or its secret societies or whatever voodoo is happening there at the moment. And even more honest, I don't quite care. But bringing this topic in discussion and making a somehow "magical" experience out of it is quite interesting.
This society, Lethe, is there to supervise every abuse of magic the other eight secret societies are conducting. This is a pretty nice concept like hey, look at me, I feel like a knight in shining armour.
In reality, Lethe is a mess and they barely have a bloody idea what they are doing there, but you know, I've been to my current faculty for three years now and I have no idea what I'm doing either so Lethe, I got you bruh.
The action here seems to be purely symbolic in my opinion. I mean, things don't really happen until the last 150 pages whatsoever. But the interesting thing is that when the whole mystery started to unravel, it kind of caught you off guard. I, for instance, was caught off guard by the whole ending and this hurts the Agatha Christie fan in me because it is literally a very easy-to-solve mystery. The problem with me was that my brain was too busy making another kind of connections based on all the information accumulated along the book (because it is a whole lot of narration and description in here) to even realise that X is the one who killed Y and, yes, indeed, X was the murderer all along.
Hm. This one was interestingly played, Bardugo. Very good.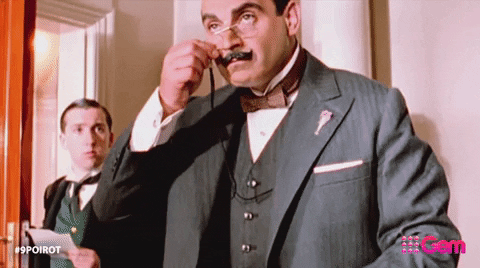 Now, let's talk about my favourite part: Darlington.
I just want to express my undying desire to meet this boy in person. It would be a highlight of my life, I am sure of it. But until then, I want him to come back from wherever he is. You heard me, BRING MY BOY BACK!
Daniel Arlington aka Darlington is the so-called "gentleman of Lethe" and oh, doesn't this world need more gentlemen? For real now, that's an honest question.
Everyone loves Darlington. And I do too. And you'll do too. I cannot explain that, but he's got a sort of magnetic personality that fascinates everyone. He's like the biggest geek on the planet meets the rich, upper-class boy meets the charismatic boy next door. He's all that and he's precious.
"Have power on this dark land to lighten it, and power on this dead world to make it live."
Maybe he doesn't want it. Maybe he does, but Darlington inspires people. He fascinates people and then he inspires them. Everyone feels the need to be like him. Everyone feels the need to please him. To be around him. How? Don't know. He might be even the most boring person ever, but he's so deliciously sweet that it won't matter.
Galaxy Stern, a culturally ambiguous girl with a long record at the ready and a very comical but interesting name is not immune to Darlington's charms. In fact, she might be as in love with him as the rest of us.
Their relationship is presented from three aspects: the reality in which Alex Stern and Darlington met and worked together, the reality in which Alex is remembering how it was to have Darlington by her side and to want to bring him back and the reality in which Alex is uncovering everything, makes connections and prepares herself to do whatever it takes not to fail again. I don't know if that made any sense, but it is like when you dream that you were dreaming something. The exact same concept.
"I let you die. To save myself I let you die. That is the danger in keeping company with survivors."
Alex sees ghosts. And she has been seeing them for all her life. Which is kind of disturbing? She was bullied for it and she became a broken girl. All that rebellion was purely a defence mechanism gone wrong. But after all, when life gives you sour lemons like that you have to make a sour lemonade and to try to sweeten it with everything you have at hand. Or to drink it as it is.
"We all have spaces we keep blank."
I am not very fond of Alex's character just yet, she's indeed a hard girl to love but I think she might grow on me after a while. I already love her wits so I just need another push to be sure I like her.
On the other hand, another great character of this book is Pamela Dawes whom I actually really love. Pammie is the mum-friend and there's no way you'll argue that after you come to know her. Hell, I'll let her cook some lemon chicken soup for me anytime, that's how amazing I think she is.
There's a lot going on in this book. It is something hard to get into because the beginning is extremely confusing. The action is quite slow and not necessarily that complex, but somehow, until the end, there is something there. Something that leaves you thinking that you actually enjoy it.
It's a complicated book to like, to be honest. But it has charm. There is something dark that keeps moving, twisting and turning.
The book has its own power. That's the best thing in a book though. So, in my opinion, Ninth House is about to be on its way to success.
"That was what magic did. It revealed the heart of who you'd been before life took away your belief in the possible. It gave back the world all lonely children longed for."