As I come to realise that I have a monstrous TBR pile of books, I have decided that the best way to achieve a big (pantagruelian) goal is to separate it into baby-goals. So, I would try to set every month a target of 3 or 4 books that I would like to read. Hoping this is a good idea and praying to all the gods out there, let's get to work!
I must say first that I always select my books in a very sophisticated and elaborated manner (This is, in fact, a big fat lie. All I do is to ask my brother to pick out a piece of paper with a title from a plastic bag, telling him to pretend he is playing bingo. What he chooses, I read).
*
Why do I want to read this book:
I love reading biographies;
I love Michelle Obama;
Everywhere I turned my head I saw people reading it and I was like ?? okay I want to read it too;
I really think that Michelle is going to feed me some good life stories and some nice sneak peeks from inside the White House and I am so ready for this.
*
Crown of Midnight (Throne of Glass #2) by Sarah J. Maas
Why do I want to read this book:
As I've already read the first book, Throne of Glass, I need to know what happens next;
It is addicting and it is a series and I must commit to series;
Fleetfoot;
Celaena Sardothien and Princess Nehemia. Do I have to say more?
*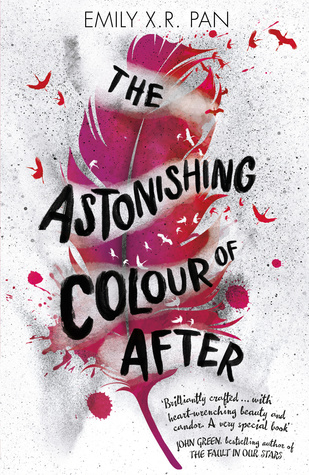 The Astonishing Colour of After by Emily X.R. Pan
Why do I want to read this book:
The idea of this book is a bit unusual so I might feel like I want to trancend to something unusual together with the main character;
I am plainly curious;
My brother chose it for me a month ago and called me a 'snake' because I didn't want to read it back then.
+
The Lonely Hearts Crime Club by Tanya Bullock
Publication Date: 16th April 2019
Why do I want to read this book:
As a new member of NetGalley community, I have the opportunity to read the book as fast as I get my claws on it, which makes me feel extra fancy and professional;
I really want to see what is it about because it is such a fresh reading;
I feel good when I see the word 'crime' in a title (yeah, I am a freak, but let's not judge my freakiness just yet, I have more to come).
Okay that's it.
That's all I wanted to say. But I want to sound fancy and dramatic so:
Now, without further ado, wish me luck and pray for me to the gods of books to manage to read these books within this month!